Four for the Future
March 31, 2021
Georgia Trend Magazine, Howard Pousner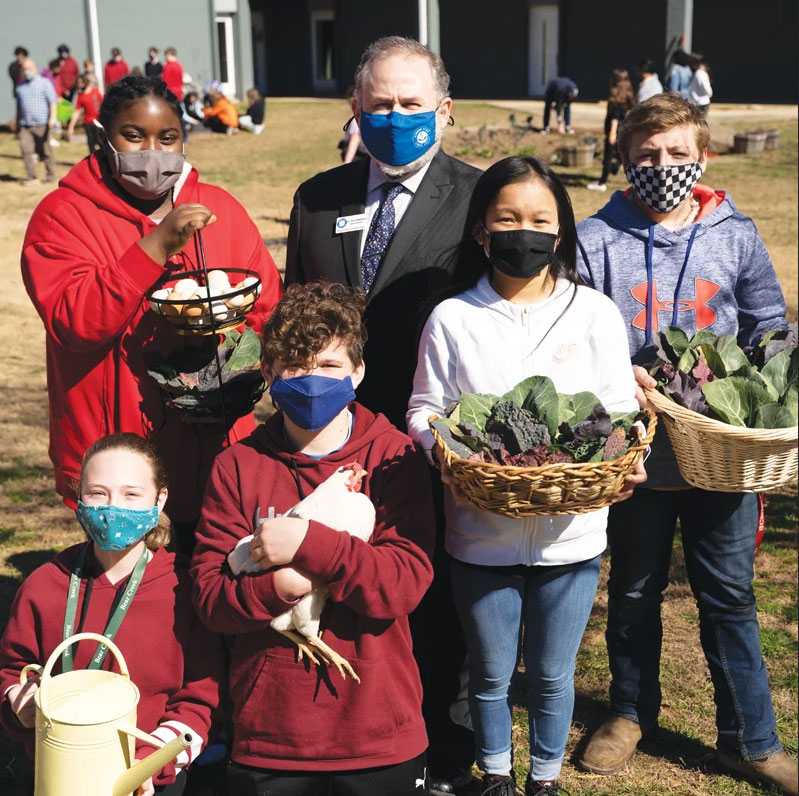 Public-private collaborations improve lives in Georgia communities.
Creating a branding campaign for Washington County with the buy-in of its eight communities. Helping aspiring and emerging entrepreneurs in downtown Macon craft business plans and secure loans. Seeding a farm-to-school program in Barrow County. Resolving a flooding problem in Camden County and turning the solution into an educational opportunity.
Georgia Trend and the University of Georgia (UGA) Public Service and Outreach Division are spotlighting these four places and projects for their efforts to improve residents' lives through public-private collaborations. This is the ninth consecutive year for the Four for the Future recognition.
"The University of Georgia is unique in that it is the only institution of higher education in the state that has service as part of its mission," says Jennifer L. Frum, vice president for UGA Public Service and Outreach (PSO). "As the land-grant and sea-grant university, we are responsible for working throughout the state to boost economic development and help all Georgians prosper."
Here are the stories of this year's honorees.
---
Barrow County
Becoming Problem Solvers
In the Barrow County School System, students are not only growing fall and spring vegetables such as collards, kale, broccoli, radishes, spinach, sweet potatoes, Swiss chard and cilantro, they're also tasting them.
And, don't faint: Many admit to liking the fresh produce.
Cultivating more adventurous palates is one of the benefits of the Grow It Know It farm-to-school program launched in the North Georgia county schools in 2018. But the fruits of the partnership between UGA's Office of Service-Learning, the school system's Center for Innovative Teaching and the Barrow County Extension office – modeled on a successful program launched in Clarke County – do not stop there.
Barrow faculty members long were enthusiastic about the idea of farm-to-school teaching, but there were barriers, says Superintendent Chris McMichael. Those included the need for teacher training, support for starting and managing school gardens, securing garden materials and supplies, coordinating cooking activities and integrating the program into the curriculum.
"These challenges were surmounted by the eagerness and dedication of our teachers to roll up their sleeves – literally – and make it work for their individual schools and students," McMichael says.
Fifty-three Barrow County educators have completed the Grow It Know It training, teaching the curriculum to 2,100 students. Before COVID-19 safety measures limited the program in the 2020-21 school year, more than 2,600 students were eating produce from school gardens in cafeterias each semester.
But Grow It Know It seeds learning beyond gardens and cafeterias.
"We feel it is important to help students understand the importance of agriculture across the state, country and the world in order to increase their knowledge of supply and sustainability," McMichael says.
The big-picture goal, the superintendent adds, is teaching students to become problem solvers.
Grow It Know It might lead to future farming careers or, McMichael believes, open the door to work in agribusiness fields from animal husbandry and genetics to hydroponics and micronutrient research.
The U.S. Department of Agriculture (USDA) provided initial funding of $150,703 for Grow It Know It in Barrow. The USDA has since awarded an additional $74,345 grant to establish a beef cattle farm at the school system's Wimberly Center.
---
Camden County
Doubling Impact
The solution to a relatively small stormwater problem at the Camden County Extension office in Woodbine is transforming into an opportunity to educate citizens and deliver a bigger impact across the Coastal Georgia county.
Several times a year, during heavy rains, water would seep under the extension office's front doors from the one-story building's paved parking lot, soaking the carpet.
"Because we're coastal and really low-lying and pretty much surrounded by rivers, anytime it rains we get a lot of stormwater issues," Deputy County Administrator Shawn Boatright says. "Some of our rain events, we've had four to five inches in an hour. Anytime you have that much water falling in such a short amount of time, you're going to have flooding."
Jessica Warren, UGA extension coordinator and agricultural and natural resources agent in Camden County, had an idea. What if the solution – installing a small bioretention cell – could also serve as a demonstration project for residents or businesses with flooding issues of their own? Bioretention cells are landscaped depressions designed and sized to capture and hold stormwater runoff from surfaces that don't absorb water (impervious surfaces). They use water- and drought-tolerant native plants and layers of soil and rock, filtering the stormwater until it gradually joins with groundwater.
Jessica Brown, stormwater specialist with UGA Marine Extension and Georgia Sea Grant in Brunswick, along with a UGA student studying biochemical engineering, designed and oversaw installation of the bioretention cell.
With U.S. Environmental Protection Agency funding, four Camden County Public Works Department employees finished the $3,000 project, formally called Coastal Green Infrastructure Implementation, in summer 2020. They removed shrubs and a small tree, dug down and added sand and soil layers topped by mulch and bordered in stone. Warren and her colleagues installed an array of native plants that help absorb storm-water, including swamp sunflower, seashore mallow, blue-eyed grass, Stokes' aster, white wild indigo, black-eyed Susan and sand cordgrass.
"We've had some decent rainfalls since then, and we've not had any kind of flooding into the building whatsoever, which is great," Boatright says.
Projections are that the 262-square-foot bioretention system will manage more than 14,000 gallons of stormwater yearly.
The extension office has been working on a brochure for the public that explains bioretention cells. Once the pandemic is under control, Boatright says it will host sessions at its building and use the cell for demonstrations.
But the project's benefits should not stop there. Boatright says now that public works employees are trained, he believes bioretention cells could be installed around drainage-challenged county facilities or rights-of-way.
Stormwater is "a long-term problem that's gotten worse here because of the increased activity in the Gulf and over the Atlantic with all of the hurricanes in recent years," Boatright says. "This is a beautiful place to live, but that also creates challenges."
---
Macon-Bibb County
Ensuring Entrepreneurial Success
The dream of launching a business is not automatically accompanied by the skills to make it a success. NewTown Macon – a nonprofit organization focused on reinvigorating downtown Macon by enticing businesses, boosting residential development and creating a sense of place – sought to improve the odds.
In 2018, NewTown enlisted the help of UGA's J.W. Fanning Institute for Leadership Development in developing a program that came to be called the NewTown Macon Entrepreneurial Leadership Academy.
NewTown had begun offering business loans two years earlier to help fill empty storefronts. A number of would-be entrepreneurs were interested, but many candidates required extensive coaching just to complete the application.
"We knew we would fill a void because we were committed to financing business types not typically funded by banks, namely start-ups with no business history and hospitality-based businesses," says NewTown's Bethany Rogers. "What we quickly discovered is that the aspiring entrepreneurs we were working with – the majority of whom are women or entrepreneurs of color – lack the training and support to complete a business plan or a personal financial statement on their own."
The Fanning Institute developed a more comprehensive curriculum for Academy classes than NewTown initially envisioned, schooling its students in the culture of entrepreneurship. The idea was to ensure students gain not only the skills to pursue financial capital but also the tools to build social and inspirational capital.
"That 'person' piece doesn't necessarily make an entrepreneur a more successful loan applicant," Rogers says. "But what we have seen, particularly over this last year with our graduates, is that those qualities and skills are necessary to sustain a small business for the long-term."
Rogers' collaborators at Fanning, Rich McCline and Brandy Brown Walker, taught the first academy for would-be entrepreneurs and relatively inexperienced business owners in 2018. It produced 15 graduates, and three of the eight who were aspiring entrepreneurs have gone on to open businesses. Two of the graduates secured small business loans from NewTown. Loans to academy graduates typically are $50,000 or less.
In 2019, Rogers taught the curriculum with two NewTown colleagues. Out of 17 graduates, seven already owned their own ventures and are still in business, and one has opened a second business with her husband.
Due to COVID-19, the academy was not offered in 2020. But NewTown has used curriculum components in one-on-one coaching and small group work.
"The academy has been successful in ways our numbers and deliverables don't indicate," says Rogers. She notes that even when graduates decide to hold off on applying for a loan, they have gained valuable knowledge by learning that their dream needs to be refined or reconsidered.
If those graduates do later decide to apply, loans should be available. In January, NewTown Macon established NewTown Loans as a separate entity, with Rogers as executive director. Its Emerging Community Development Financial Institution designation by the U.S. Treasury Department is expected to give it access to cheaper capital to lend.
---
Washington County
It All Happens Here
Central Georgia's Washington County, located roughly midway between Macon and Augusta, has a brand-new identity centered around the tagline It All Happens Here. But the fresh, shiny branding didn't happen overnight or easily.
The county reached out to the Carl Vinson Institute of Government at UGA to begin the yearlong brand creation process in 2019 in collaboration with the university's Archway Partnership, a PSO unit that unites communities with resources to address local needs. The first priority, says Jayson Johnston, the executive director of the Development Authority of Washington County, was to consider potential obstacles.
One potential hurdle: Many residents in one of the state's largest (684 square miles) counties might assume that the seat of Sandersville would drive the process and be its biggest beneficiary. New to the area at the time, Johnston had already heard comments such as, "Sandersville gets everything."
Johnston was hoping to use the branding to help attract industry. So he wanted all residents on message about why Washington County is a worthy place to live, visit, move to and set up a business. But with the county home to eight distinct communities, could there be unanimity about anything?
To address such challenges, Johnston knew he needed wide participation in brainstorming the brand. "Because it's really easy in a community to get the same six or seven people at the table that are always at the table, and then that's the only viewpoint you've got," he says. "So what we did was not ask people to come to our table, but instead went to theirs."
It worked. Over the course of three months, the branding team met with 17 focus groups and 176 individuals all over the county, plus received 106 online survey responses. All eight communities – Davisboro, Deepstep, Harrison, Oconee, Riddleville, Sandersville, Tennille and Warthen – were well represented.
Mining of kaolin – the white, alumina-silicate clay used in hundreds of products from cosmetics to the nose cones of rockets – remains an important industry in Washington County, which is bounded by the Oconee River to the west and the Ogeechee to the east. So it was not surprising that the leading responses to the question, "What makes Washington County unique?" were kaolin and outdoor recreation and natural resources. Rounding out the top five responses were: location and rural lifestyle; sense of community; and history and tradition.
Residents sought a message and look that represented what they affectionately call the "WACO Life," grounded in a county that was established in 1784 and named in honor of George Washington before he became president.
The graphic design borrowed elements including a compass rose from an 18th century map of Georgia. Traditionally a symbol for navigation, it has eight points, nicely representing the eight Washington County communities, each of which received a customized logo as part of the branding. Even the color palette has historical references, borrowing the blue and gold from the Continental Army uniform selected by Washington in 1789.
But the heart of the matter is the tagline. On first blush, It All Happens Here may sound a mite open-ended. But Johnston says that when steering committee leaders shared copies of the completed guidebook, which explains the branding and how it should be employed, community officials, businesspeople and regular citizens connected with it.
In meeting after meeting, the county's Archway Professional Conni Fennell-Burley would ask stakeholders to close their eyes while she read a series of poetic statements from the back cover of the guidebook that details some of the things that make daily life in the county special. The passage includes a dozen sentences beginning with "It Happens…" that celebrate everything from "Spanish moss dancing over Old City Cemetery" and a Dairylane dip cone in Sandersville to the Friday night lights of high school football across the county and "when you hear the train coming in Tennille." To the Washington Countians, it simply sounded authentically like them.
"Every time someone would be moved to tears emotionally, and that was pretty awesome," Johnston recalls. "I feel like when you're able to touch people like that, you've done a good job."
ADD ITEM TO REPORT
As you navigate our website, you can use the "Add Page to Report" button to add any page or property to a custom report that you can print out or save.